Traveling to Spring with Trung Nguyen Coffee Tour
An exciting experience journey during this Tet holiday will be a great suggestion for you to regain balance in life, re-energize to start the new year.
Recently, Vietnam tourism has gradually shown positive signals. Many domestic tourism units, including Trung Nguyen Healing, have quickly launched new and special tours to create opportunities for tourists to experience and explore after a long period of separation at home.
If you're also planning a new year's trip, don't miss out on the exciting journeys below.
Recharge with a coffee experience tour right here in Saigon
In TP. Hcm City, the epidemic level has dropped to the lowest level, creating conditions for tourism activities to restart. Not only is it a destination that attracts tourists from other provinces and cities to visit, but people in Saigon can also choose for themselves a spring trip in the middle of the city they live in.
As an art lover, coffee lover you will not be able to miss the tour to experience the "Art Show showcasing the three world coffee civilizations".This is the first new and different coffee experience show introduced in Vietnam. Taking part in this exciting experience journey, visitors not only learn about the history of Ottoman - Roman - Zen coffee civilizations on the basis of fanciful 3D mapping technology but also admire the lively and unique brewing art of leading barista experts. Currently, the art show is being performed only at Trung Nguyen Legend Café (HO CHI MINH CITY). Ho Chi Minh City), The Coffee World Museum (Buon Ma Thuot) and Trung Nguyen Healing Travel Company will provide advice to help you go to see this special experience tour!
Tour to enjoy art show 3 coffee civilizations - A special experience, different for visitors right in the center of Ho Chi Minh City. HCM
The energy coffee experience tour is suitable for those who love Vietnamese coffee, want to learn knowledge, art culture, enjoy coffee ... and learn about Trung Nguyen Legend Group's 25-year journey of creativity and continuous development for a single aspiration affirming the position and influence of Vietnam's coffee industry, enhancing coffee not only as a regular drink but also at the level of cultural coffee, Art coffee, spiritual coffee... To the philosophical coffee. In this exciting experience journey, visitors can also directly prepare one of the world's best Legend iced milk coffees according to the guidance of leading coffee experts at Trung Nguyen Legend Café experience space - 12 Alexandre De Rhodes.
The space of Trung Nguyen Legend Café - 12 Alexandre De Rhodes brings special experiences for visitors who love Vietnamese coffee and Trung Nguyen Legend brand
Explore the land of Buon Ma Thuot coffee capital
Buon Ma Thuot Coffee Capital, Dak Lak, the homeland of the world's best Robusta coffee will be an interesting suggestion for you and your family to choose a destination in 2022. Immerse yourself in the unspoiled nature of the land of thousands of Central Highlands, the experience of growing coffee local people, enjoying the specialties of the mountains and forests will be a great energy source for visitors.
Coffee World Museum - An interesting destination in Trung Nguyen Healing's experience tour
There are many diverse itineraries for visitors to choose to experience the full range of beautiful destinations and specialties of Buon Ma Thuot Coffee Capital, such as Dray Nur - Gia Long Waterfall Energy Journey Tour - Coffee World Museum 3 days 2 nights will bring a special energy experience with attractive activities such as cycling, climbing mountains, rowing over waterfalls, bathing waterfalls, camping to enjoy the wine needed in the flickering fire by the fallen waterfall, listening to the echoes of the Central Highlands mountains and forests. As for the Coffee Farm Experience Tour, visitors will experience sitting in a farm car to visit the coffee farms that are in the season of fragrant bloom. More specifically, you will be able to try to be a farmer for a day, with your compatriots to make blue rice - a feature of local food culture.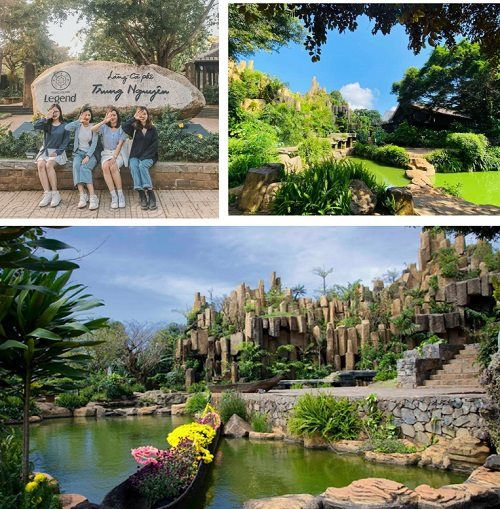 Trung Nguyen Coffee Village - The typical destination of Buon Ma Thuot coffee capital is visited by many tourists.
For those who love the indigenous culture of the Central Highlands as well as love the people here without much time, the experience journey only at Dray Nur Falls will be the ideal choice. If the tour experiences the energy journey at Dray Nur - Gia Long with many energetic activities for those who like to immerse themselves in nature, explore their own energy, then the Tour to experience the culinary flavors of the Central Highlands will bring visitors interesting experiences about the cultural life of the people when participating in making blue rice, enjoy local specialties grilled chicken, anchovy bitter coffee ... In particular, joining the Tour to experience the gong performance of ethnic people you will enjoy the moments of living fully with the cultural beauty of this land with the experience of drinking wine needed by the fire, sleeping tents to listen to the falls.
Dray Nur - Gia Long Waterfall is an ideal place for many young people to enjoy the majestic nature of the Central Highlands.
Right in this Tet holiday, many new landscapes of Gia Long Waterfall Ecotourism Area such as stone garden, Zen garden by the lake, outdoor crossbow archery area ... It will be officially open to visitors. Along with new experiential journeys such as hiking tour trekking, mountain sunrise camping at Dray Nur-Gia Long waterfall eco-resort will definitely be an ideal suggestion for you and your family to enjoy the holidays together, regaining the balance between mental and physical.
Information about Trung Nguyen Healing's experience tours is updated at fan page: https://www.facebook.com/TrungNguyenCoffeeTour. With the above suggestions, you will surely choose for yourself the right destination for spring 2022. Recharging yourself with positive energy with meaningful journeys will be a great motivation for you to break through with your plans in the new year.